Menus

Interactive Nutritional Menus

Check out our Interactive Nutritional Menus! Hover to view product nutritional information, allergen and special meal accommodation information, lists of ingredients, and more... then sum nutrients for the day's offerings by clicking the magnifying glass!

Find your child's menus from the list below and see what we're serving up!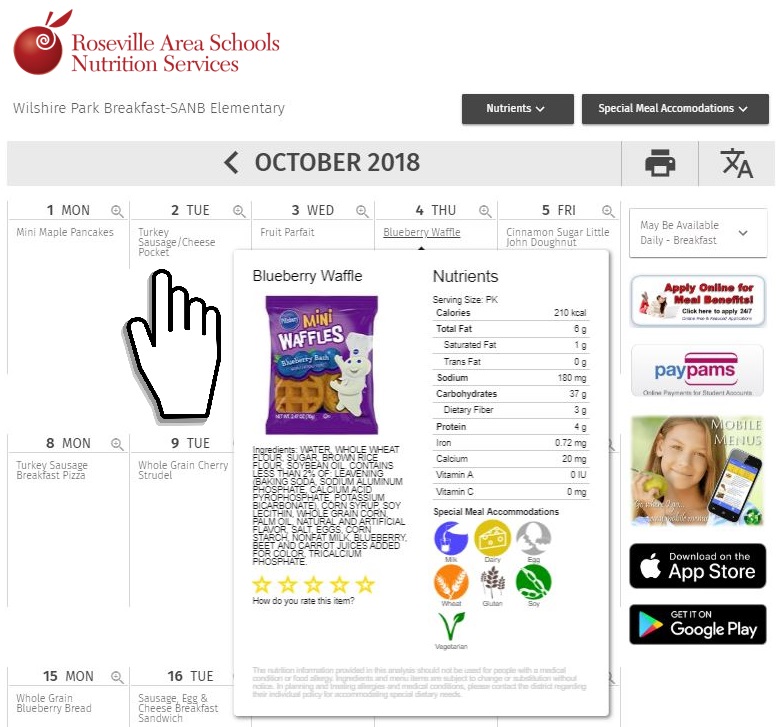 Click arrows to scroll through months

Super Snack

Super Snack (Web Menu)

SANB Elementary School

RV - Secondary Schools

RV - Elementary Schools

SANB Secondary School

Nutrition Info

CACFP Enrichment-Elementary April.pdf
CACFP Enrichment-Elementary February.pdf
CACFP Enrichment-Elementary March.pdf
CACFP Enrichment-Secondary April.pdf
CACFP Enrichment-Secondary February.pdf
CACFP Enrichment-Secondary March.pdf


Other Documents

2021-2022 Parent Guide .pdf Ala Carte.pdf Special Diet Statement.pdf

Meals, foods and beverages sold or served at schools meet state and federal requirements based on the USDA Dietary Guidelines. All meals, foods and beverages are prepared and served by qualified child nutrition professionals. We provide students with access to a variety of affordable and delicious foods that meet the health and nutrition needs of students.

This year, all kindergartners eat breakfast at no cost. All students qualified at the reduced price meal level, eat at no cost.